About Us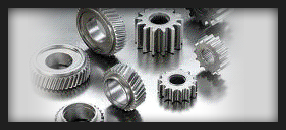 Our Journey started in the year 2011 with the motto of manufacturing world class gears and CNC turned components with the right blend of experience and engineering .We offer power transmission products based on customer's specific application requirement.

Though our inception was in 2011, we have constantly redefined and mastered core competencies through innovation and hard-work. The company has been able to win the confidence and trust of our customers with high quality products and timely delivery and our constant improvements attitude through collective team effort has made us distinct from our competitors in this short time span.

Some of our team members posse's experience for more than 20 years and this experience have helped our team a considerable knowledge of the problem likely to be encountered on complicated power transmission product that we manufacture. Our knowledge aided by the use of modern computer technology ensures a speedy solution to the majority of problems.

Being a quality driven organization, we always strive to offer the best quality products and these efforts to make sure that our clients gets the desired quality products that are durable with reliable performance.

We cater to the industries like Automobile industries, Railways, Industrial machines, Power generation and many more.

Mission :
To meet the requirements of all our customers with quality and with prompt service.

Vision :
Manufacture products not with brand but with quality and the world itself will know our Brand.